Last Friday (27th April) we welcomed 100 venue managers to Lumiere London alongside a panel of event professionals to discuss exactly what clients expect from a venue in 2018.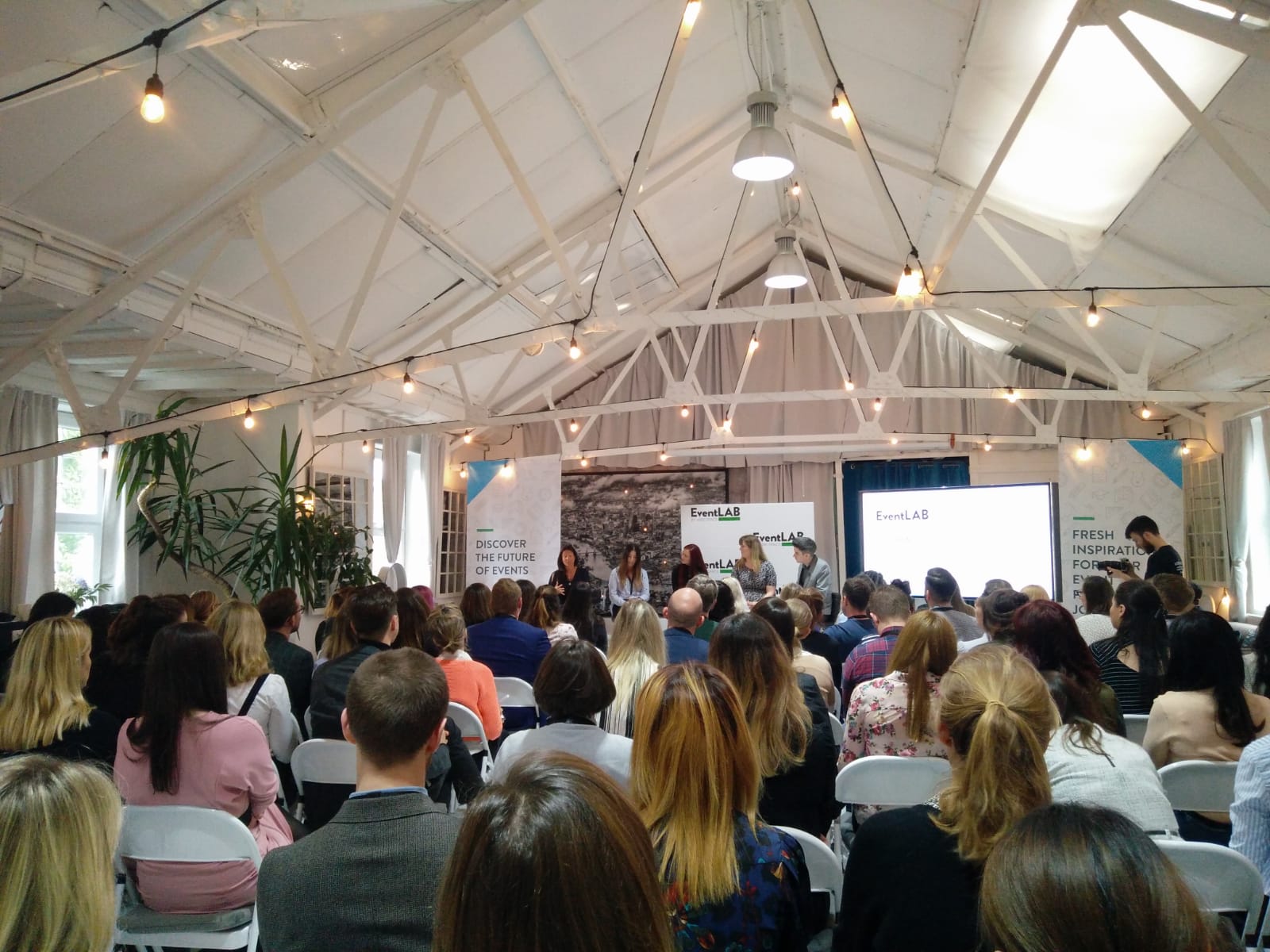 The Panel
Natalie Davies, Project Manager, ITV Experiences
Charlotte Wilson, Managing Director, Pure Events
Kate Kelly, Account Director, Fisher Productions
Victoria Monks, Special Events Manager, Sense & Sense International
And our moderator Calum Di Lieto, Editor, C&IT Magazine
The 45-minute discussion touched on many of the problems that clients and agencies face when working with venues, as well as what makes a successful relationship and fruitful event planning experience.
Watch the full discussion:
Key Takeaways
So, what are clients looking for in a venue in 2018?

1. Communication & Transparency
Communication between sales and operations teams at the venue was a key issue raised by the panel. Having both the venue's operations and sales teams included in the process from an early stage was seen as key as it sets a precedent for good communication through the event planning process. It also means there are no miscommunications between what has been promised by a sales and what can actually be achieved by operations. If a client has been promised that their brief can be fulfilled at a venue then that needs to be a reality.

The panel also suggested that when everyone is on the same page and collaborates there is not only more chance of a successful event but also more opportunity to be really creative and get excited holding an event at that venue.

2. Costs
Cost was arguably the biggest discussion point of the day, as each of our panellists had their own story of when the cost of their event has increased unexpectedly. Experiences varied from WiFi not being included in the cost of venue hire for a two-day event to cleaning that had to be organised by the client (something they were also not aware of).

Clients often don't have any 'wiggle room' within their budgets, particularly when it comes to non-profits, so these extras can be a real problem as they have to be justified if they push the event over budget.
The panel called for full transparency of costs from the very beginning of the venue hire process in order to create better relationships between clients and venues.

3. Flexibility
Flexibility was cited as a very important attribute that clients look for in a venue, particularly with regards to terms and conditions or rates. The panel suggested that clients are willing to return to the same venue year after year if there is some discount on rates or flexibility in payment terms.
Although venues may not always be able to flex on terms, what is important here is the relationship with the client that is fostered through trust, a willingness to be flexible where possible and creativity of vision.
4. Values
Sustainability is a hot topic at the moment, with campaigns to ban single-use plastic cups and plastic straws gaining support. This desire to be 'greener' and create sustainable events was important to each of our panellists and is a factor they would take into consideration when choosing a venue. In particular, they look for how environmentally friendly the venue is, whether it recycles or if they have a policy around food waste.
Alignment with a client's values, especially in the charity sector, is also increasingly important. Disabled access, inclusivity policies and provisions such as a hearing loop make a real impact on the decision-making process.
If you'd like to find out more or register for EventLAB 2018 in October click here.
You'll also find further tips, expertise and invitations for sales and marketing professionals at venues in our LinkedIn group.
You'll also find thousands of brilliant venues to book, just like Lumiere London, over on hirespace.com
And finally, we'd like to say a big thank you to our sponsors for helping us to bring this event together.
Moderator: Calum Di Lieto, Editor, C&IT
Calum Di Lieto is an award-winning journalist with over a decade of experience in broadcast, print and online media. In June 2017 he joined C&IT, the leading MICE publication, as Editor and has steered its evolution as it has gone from strength to strength. The brand now produces even more informative and inspiring content for its readership of agency, corporate and association event planners. Whether it is in the magazine, online or at C&IT's bespoke events, Calum ensures that the audience is at the heart of every piece of content that is produced.
His work on C&IT resulted in him being recognised as one of the Professional Publishers Association's New Talent 30 under 30 in 2018. He also received a nod from the British Society of Magazine Editors in 2015 when he was shortlisted in the Business Brand (Monthly) category.
Charlotte Wilson, CEO, Pure Events
Charlotte Wilson, founder and owner of Pure Events started her career after university, in Cape Town working for a small PR firm producing events and articles for the wine industry. After working overseas for three years, Charlotte then worked in a small PR firm called Floral PR in Covent Garden working on clients within the homecare sector. She was then approached to start another business which had a foot in the sports marketing arena, and it was after investing three years building the events arm, that she chose to branch out on her own again to build the Pure Events brand.
Pure Events was founded in 2005, and experienced strong growth for three years, with the help of working with Red Bull, Hamptons and JC Decaux amongst others, but then in 2008 with the market crash, Charlotte downsized to ride out the storm and rebuilt the business slowly to grow the company that it is today. Charlotte understands what it feels like to experience a recession and the tools that are required to make swift decisions in a market that is bare. Being the sole owner of the business she has now carefully chosen the management team to work with her to continue to grow the business year on year.
Kate Kelly, Account Manager, Fisher Productions
Possessing over 10 years' experience within the events industry, Kate has worked for some of the world's most successful brands in entertainment and music in addition to marketing, selling and operating a number of large-scale multi-faceted venues across the UK. Having secured and delivered events for internationally renowned corporate and luxury brands, charities and high street retailers, Kate has a broad skillset covering end to end event management, strategic sales planning and live event production.
Now Account Director for Fisher Productions, Kate is responsible for growing the agencies business with new and existing clients, managing relationships across accredited venues and ensuring that the team continue to deliver creative, high specification events and experiences that their clients never forget.
Natalie Davies, Project Manager, ITV Experiences
With over four years experience within the multi-award-winning ITV Experiences team, Natalie currently develops, manages and delivers global industry leading experiences and campaigns on behalf of ITV Studios Global Entertainment. Extraordinarily passionate about the guest experience, Natalie possesses an infectious level of attention, energy and enthusiasm when it comes to executing a wide range of cross-sector events and activations, from targeted marketing experiences to large-scale multi-channel brand events.
Victoria Monks, Special Events Manager, Sense and Sense International
For the last six years, Victoria has delivered events within the charity sector and currently manages the special events programme on behalf of Sense and Sense International. With a collaborative and inclusive approach to events, Victoria is adept at organising a varied portfolio of events including high profile fundraising galas or targeted events cultivating specific supporter groups.
Workshop Host: Stacey Kehoe, Founder & Director of Communications, Brandlective
After years of freelancing, Stacey Kehoe, founded digital marketing agency, Brandlective
Communications Ltd in 2012. Over the last six years, she has worked with over 400+ business brands, giving them visibility on Page 1 of Google search and utilised social media to double their inbound leads. In 2016, the Federation of Small Businesses (FSB) named Stacey one of the London Entrepreneurs of the Year following the launch of her business magazine, BrandMag, which aims to provide advice to the SME community. Stacey has also been shortlisted for the 2018 Southwark Business Excellence Awards as Best Woman in Business following the release of her 6 Step digital marketing methodology: The Gamechanger. She is a well-regarded industry
speaker and is due to launch a podcast and membership community in 2018.